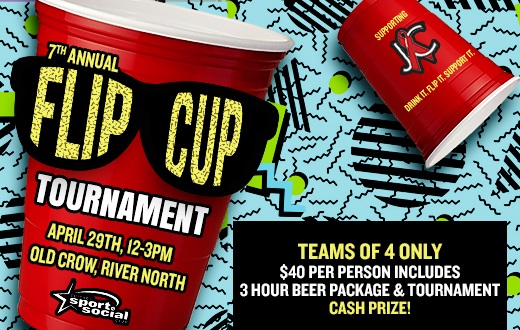 Grab your college crew and relive the glory days on Saturday, April 29th from 12:00-3:00pm at Old Crow River – North for our 7th Annual Flip Cup Tournament. Sign up as a team of 4 for $160 or come to watch (and drink) for $30. Team Entry Fee includes: entry to Flip Cup Tournament and a 3 hour Beer Package. Winners of the tournament will receive a $400 CASH prize and the best dressed team will win a special surprise, so make sure to arrive in style!
Tournament Information/Rules:
• Teams must register in groups of 4
• Please include your team name and team contact information
• Double elimination
• Check in starts at 11:00 am
Speed is the name of the game, so flip cup enthusiast's get your team together or just come cheer on your friends! Either way, do it for the kids!
Sign up here: https://www.eventbrite.com/e/7th-annual-flip-cup-tournament-tickets-33221776227